Transportation is crucial to ensure access to essential services such as medical care and grocery shopping.  The availability of adequate transportation enables older adults to live independently in their communities and helps to prevent isolation and the possible need for long-term care placement.
Many seniors who do not drive rely on family and friends to give them rides.  But for seniors who have no alternative transportation, it is necessary to find community resources to provide transportation, as this vital support service may be their only connection to the outside world.
Individuals must meet certification requirements to become eligible through Adult Resource Alliance.  There may be a fare or recommended donation for services.
To help non-driving adults age 60 and above travel to and from appointments, social events, and shopping, Adult Resource Alliance offers a number of different transportation services.
---
Billings Transportation
RIDES Program
The RIDES Program provides non-emergency and non-medical rides for seniors with no alternative transportation.  Application through Adult Resource Alliance is necessary to determine qualification.  Seniors must be able to transfer into a private vehicle independently.  Volunteer drivers, certified through Adult Resource Alliance Volunteer Program, use their own vehicles to provide one ride per week Monday through Friday, 9:00 am to 5:00 pm.  No fees apply but donations are always welcome.  Rides are dependent upon driver availability.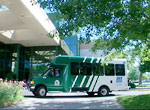 Medical Rides
"The Medical Rides Program" provides non-emergency transportation for seniors to their local medical appointments.  Application through Adult Resource Alliance is necessary to determine qualification.  Alliance provides medical rides through contract with MET PLUS, as well as some supported cab services.  Donations are welcomed for general services.  Some fees may apply to special services.
Meal Site Cab Program
The Meal Site Cab Program provides transportation to seniors who wish to eat lunch at one of Billings' five meal sites.  Application through Adult Resource Alliance is necessary to determine qualification.  Seniors must be able to transfer in and out of cabs independently.  Program participants are required to attend the meal site closest to their home and participate in the meal program.  There is a minimal fee of $1.50 per one-way trip; additional fees may apply.
For additional information and applications to these programs, please call Transportation 406.294.1591
---
Laurel Transportation Program
The Adult Resource Alliance, in partnership with the City of Laurel, provides door-to-door transportation for all Laurel residents living within one mile of the Laurel city limits.  A 12-passenger lift-equipped bus provides the following service:
Within Laurel:
Monday through Friday – 10:00 – 4:00 pm
1st, 3rd & 5th Tuesday of month – 10:00 – 12:30 pm
To/From Billings:
1st, 3rd & 5th Tuesday – 1:00 – 5:00 pm
The fare for rides within Laurel is $2.50 per trip and to/from Billings is $6.00.   If additional stops are requested during a trip, $1.25 is charged for each additional stop.   Any type of trip within regularly scheduled service is eligible. To reserve a ride, please contact the City of Laurel at 406.628.4796 Ext #3.
---
Custer Transportation Program
The Custer Transportation Program provides service to/from Billings for seniors and disabled individuals living in eastern Yellowstone County.  Service is provided on the 2nd and 4th Tuesdays of each month.
A lift-equipped twelve-passenger bus leaves Custer around 8:15 am and returns to Custer after 5:00 pm. Individuals may also be picked up in Pompeys Pillar, Ballantine, Huntley and Worden with advance notice.
The recommended donation is $7.00 for a round trip between Custer and Billings. The recommended donation is prorated for other communities. Any type of trip is eligible during regularly scheduled service.
To make a reservation for a ride on the Custer bus, call Corinna 861-4259.